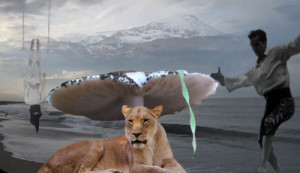 OTEME – Osservatorio delle Terre Emerse
Introduces
ORFEO E MOIRA
The video that anticipates the band's new album
With a very special guest: Antonio Caggiano on vibraphone!!!
Stefano Giannotti's new video for the song ORPHEUS AND MOIRA, from the new CD
THE BODY IN THE DREAM for Ma.Ra.Cash Records, available from MAY 4th 2018

WATCH THE VIDEO: https://youtu.be/9XDDNFGdTU0
LISTEN TO THE SONG: https://soundcloud.com/oteme/orfeo-e-moira-orpheus-and-moira
A tale that is dreamlike and a bit off key, (almost) a video clip for the song ORPHEUS AND MOIRA written by Stefano Giannotti for the ensemble OTEME and found on the CD THE BODY IN THE DREAM, this work is based on the visual interactions among characters taken from old films of the circus, and overlapped on landscapes in movement. Halfway between video art and choreography, this work uses animations based on hundreds of frames that were trimmed by hand using Photoshop and digital photography.
OTEME – Osservatorio delle Terre Emerse (The Observatory of Dry Lands) is a musical project / chamber ensemble whose size and composition change according to the music being executed and the language chosen. It was born in 2010 after some years of didactical experiments in the fields of song-writing, art-rock and contemporary music; since then, the stable core of the ensemble is joined by musicians from different areas, depending on the repertoire. The group performs works written by the Italian composer, performer and videomaker Stefano Giannotti, also member of the band.
The new CD is a collection of songs strongly contaminated by very different music experiences which range from Rock-In-Opposition to Jazz, from Orchestral Zappa to Chill-Out revised, from Music Theatre to classic counterpoint. With a thin veil of humor, which never hurts!!!
OTEME – Osservatorio delle Terre Emerse (su Orfeo e Moira)

Valentina Cinquini, Valeria Marzocchi, Emanuela Lari, Gabriele Stefani, Edgar Gomez: voices
Stefano Giannotti: voice, bass-guitar, electronics
Lorenzo Del Pecchia: bass clarinet
Maicol Pucci: flugelhorn
Marco Fagioli: sifon
Riccardo Ienna: percussion
Antonio Caggiano: vibraphone
Production, direction, animation, music and lyrics: Stefano Giannotti
http://oteme.com/en/
http://stefanogiannotti.com/en/video/orfeo-e-moira/
http://oteme.com/en/il-corpo-nel-sogno/
http://store.maracash.com/
© Stefano Giannotti / SIAE 2018