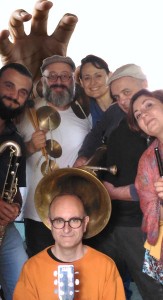 June 11th, 2015, Saturday at 9 p.m.
OTEME will perform L'AGGUATO, L'ABBANDONO, IL MUTAMENTO at SPAM, in Porcari (Lucca) in association with Cluster Musica Contemporanea. The line-up is made of:
Valeria Marzocchi: flute, piccolo, voice
Lorenzo Del Pecchia: clarinetsMarco Fagioli: bass tuba, metallophone
Emanuela Lari: keyboards, voice
Stefano Giannotti:  voice, guitar, banjo, keyboards
Riccardo Ienna: percussion
More soon. Stay tuned !